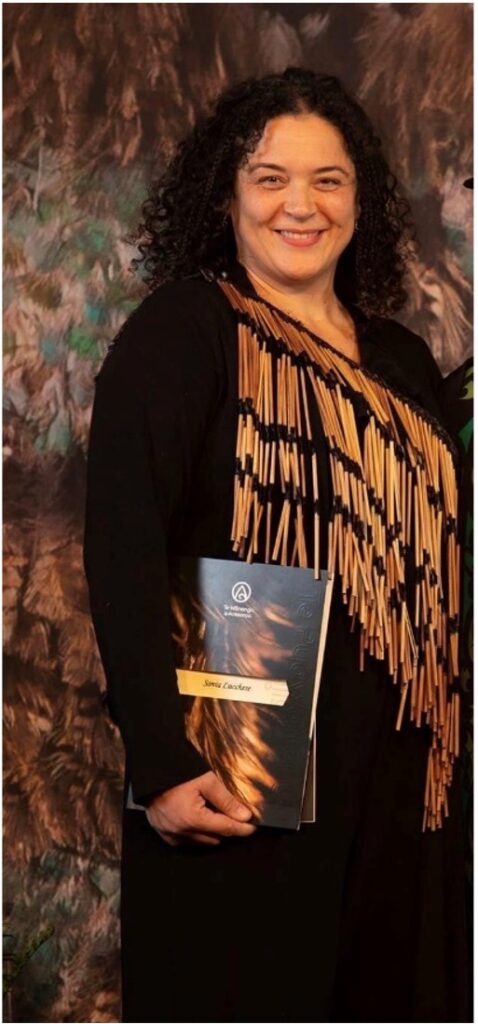 Sonia is multilingual, with tupuna from Madagascar, China and Italy. She grew up in France and moved to Aotearoa in 2002, after 8 years in Germany.
Nō Marakāhia nō Itāria nō Haina ōku tūpuna, I tipu ake au ki Wīwī. E noho ana tōku ngāku ki Tāmaki-Makaurau, ko Ōtautahi tōku kāinga ināianei, Ko Sonia Lucchese tōku ingoa.
Although Aotearoa isn't my birthplace nor the birthplace of my tūpuna, I feel a sense of connection to the whenua and to te ao Māori by connecting with tangata whenua and the treasures they have shared.
Through the Kāi Tahu style of weaving that I have learnt at Te Wānanga o Aotearoa, I have reconnected with my indigenous roots of Madagascar as they weave with similar methods and style.
While completing her Diploma in Māori and Indigenous Art through Te Wānanga o Aotearoa, and a Master of Education through the University of Canterbury, she was member of the advisory group for The Hikairo Schema for Primary and Secondary school.
Sonia's passions are teaching and weaving. She is committed to upholding Te Tiriti o Waitangi in her classrooms and personal life. She strives to uphold the responsibilities of tauiwi in Aotearoa and she teaches this to students and teachers at Primary, High school, and tertiary level.
Her culturally responsive teaching practices include the art of raranga (weaving). Sonia shares her love for weaving with ākonga, kaiako and kura, and is always looking for ways to connect educational practices with cultural narratives in a sustainable way.
Sonia's other achievements are:
Supervisor in a bilingual and bi-cultural company in Germany
Completed level 2 in German literature, linguistics, and physical education.
Bachelor of Art in German language and civilization in France
Graduate teaching diploma in German and French language
Registered Personal trainer in New Zealand
Coached for Auckland City Athletics, Aspire mentor programme for school athletes and PARAFED Auckland.
Coached athletics for Paralympics New Zealand towards the Athens '04, Beijing '08 and Christchurch Worlds 2011 campaigns.
Completed Level 1 Poupou huia te reo at Te Wānanga o Raukawa
Completed level 3 He Papa Tikanga at Te Wānanga o Aotearoa
Completed level 5 Toi Paematua at Te Wānanga o Aotearoa which is the highest level in the South Island.
Teacher of languages from year 1 to tertiary level in French, German, Spanish & Te Reo Māori.
Kāhui ako school co-leader for culturally responsive practices 2020 Successfully integrated te ao Māori practices in European language classes which was presented in the secondary school edition of the Hikairo school schema.
Master of Education, Teaching and Learning Languages with special interests in culturally responsive and inclusive practices at Canterbury University.